2nd Technical talk on "Sinter Technology" has been delivered by Shri Manohar Lal, CGM, Quality, BSL on 21st Jun'2023 ;11:00 AM-12:00 noon at Conference Hall, Sinter Plant, BSL.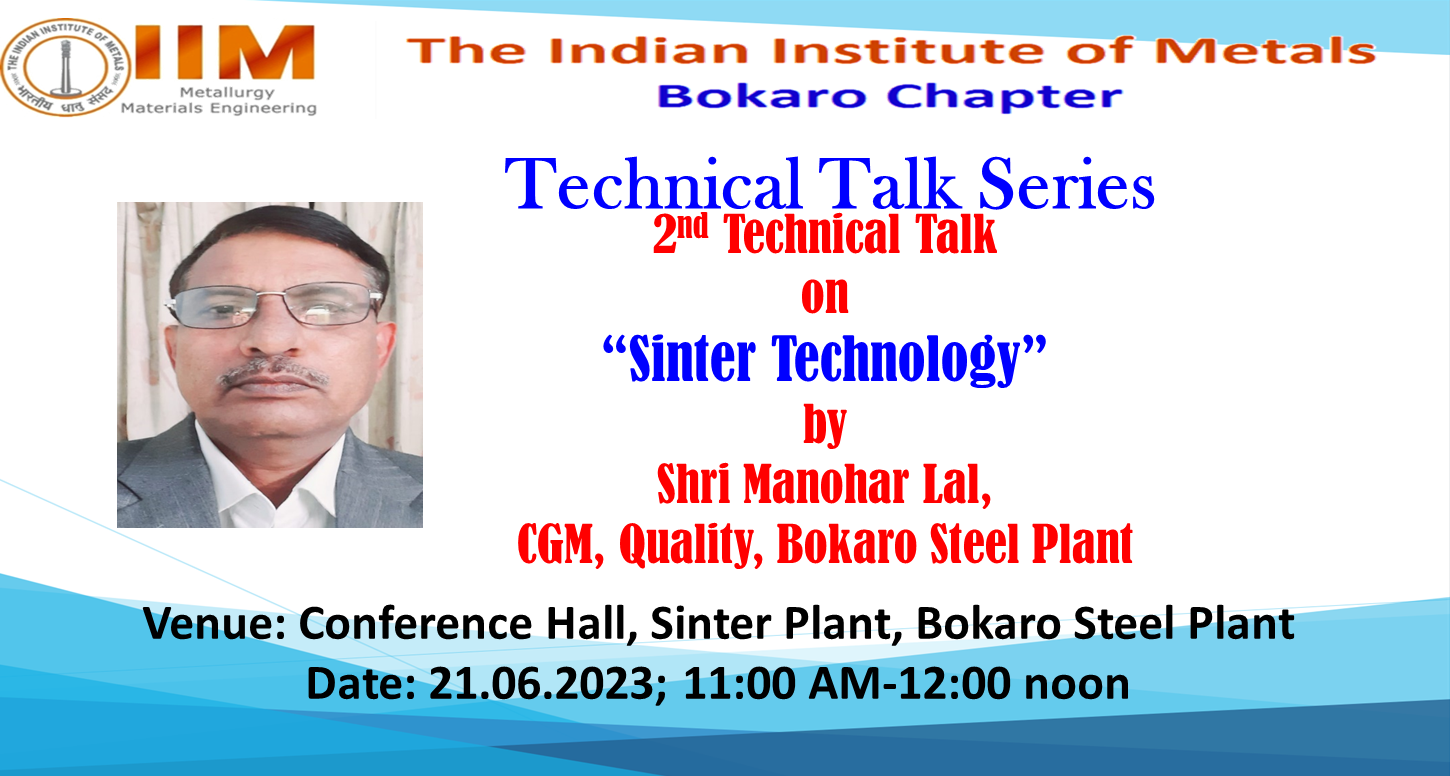 1st Technical talk on "Identification of Flexible rotors and
their balancing" has been delivered by Shri Deepak Roy, CGM, CRM I&II, BSL on 24th May'2023 ;4:00 PM-5:00PM at Conference Hall, CRM I&II, BSL.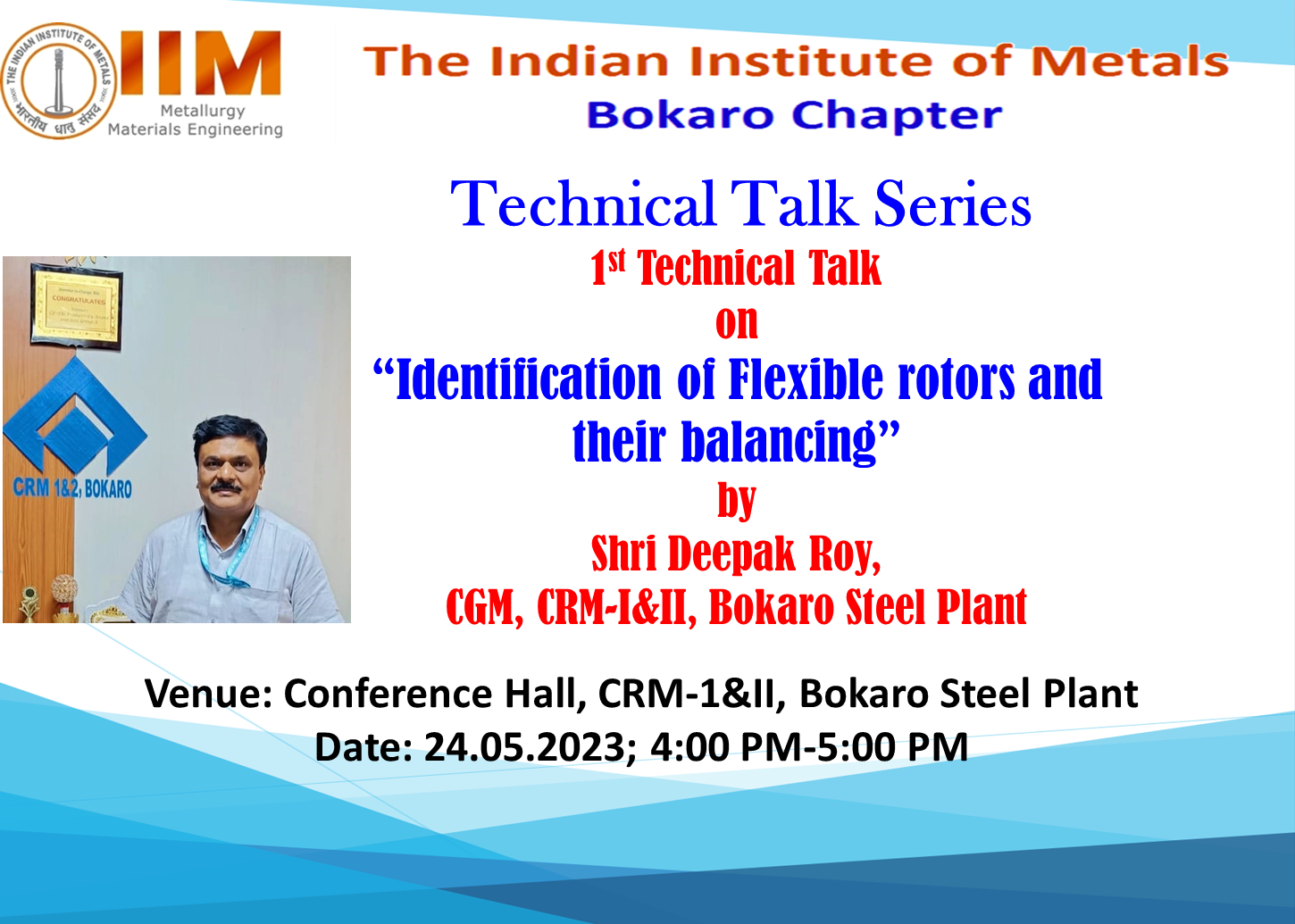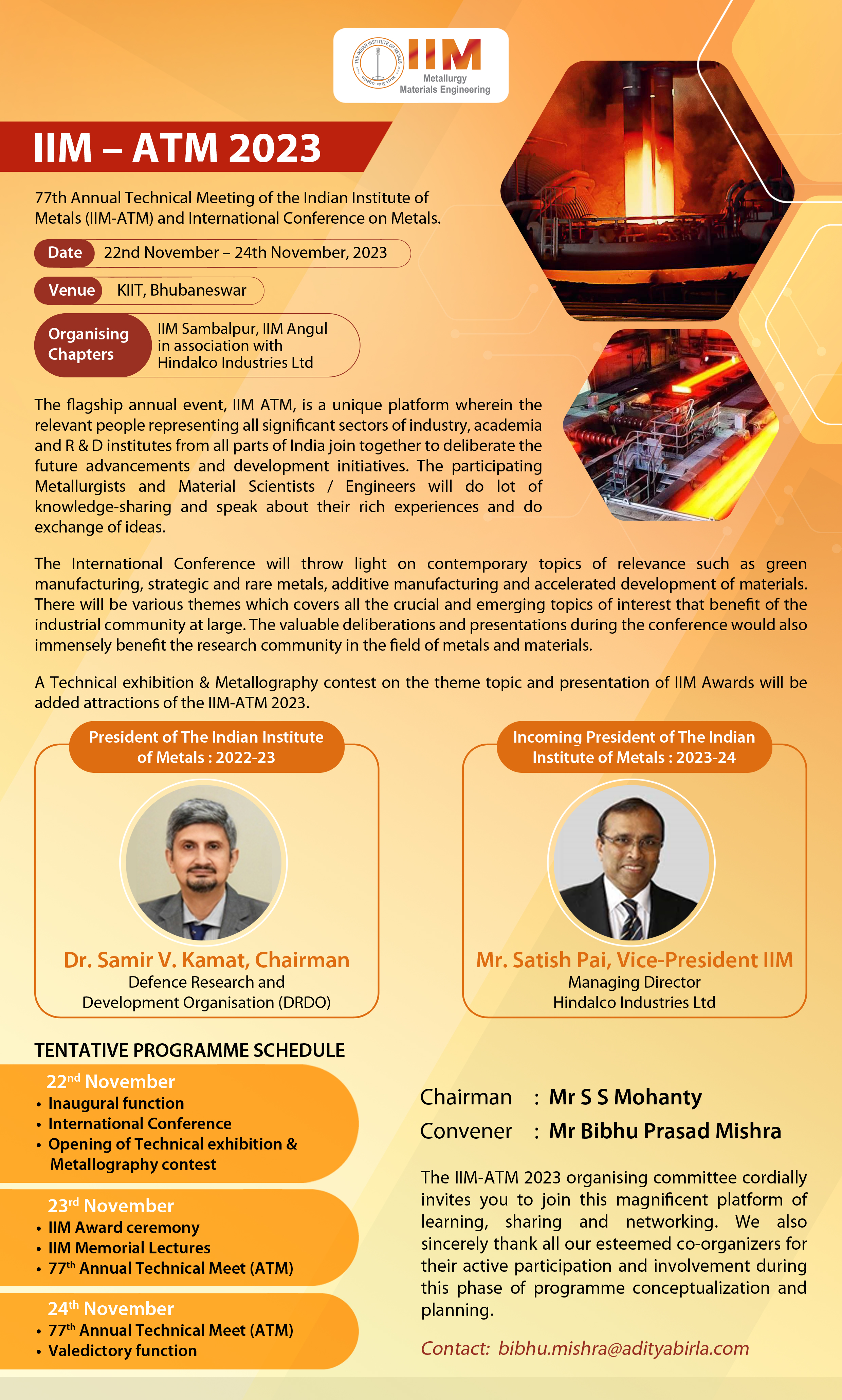 The Indian Institute of Metals
has played a significant role in its
7
5 years of journey since 1947 in establishing a bond among the metallurgical industry in the country, academics and researchers in the country. The professional course offered and conducted by the Institute is nationally recognized since long, and there are numerous examples of professional success of the candidates. The Institute has established strong interaction with some of the leading professional bodies pertaining to metallurgy and materials, and its arena of activities is ever expanding.
[...More]

Bokaro Chapter of The Indian Institute of Metals is one of the leading and active chapters having membership strength of around 100. Bokaro Chapter has been formed in the Year 1978. The chapter was established through the support and patronage of SAIL Bokaro Steel Plant.

The activities of the chapter include Organizing Technical talks by invited Speakers, organizing National/International Seminars/Conferences, NMD Group awards to executives and non-executives & Shop Performance Awards to different shops at BSL for their outstanding contributions in the field of Metallurgical Engineering.



Bokaro Chapter has hosted the the 16h NMD and 32nd ATM in 1978 and co-hosted the 50th NMD and 66th ATM at Jamshedpur during November 16-19, 2012 along with Jamshedpur, Ranchi and Ghatsila Chapters and TATA Steel.




In 2015, IIM Bokaro Chapter organized an

International Conference on "Automotive Steel - Outlook &Perspective"
In 2022 Sep 23rd-24th, Bokaro Steel Plant in association with The Indian Institute of Metals Bokaro Chapter and Indian Ceramic Society host International Conference on Refractories in Iron and Steel Industries- REFIS 4.0